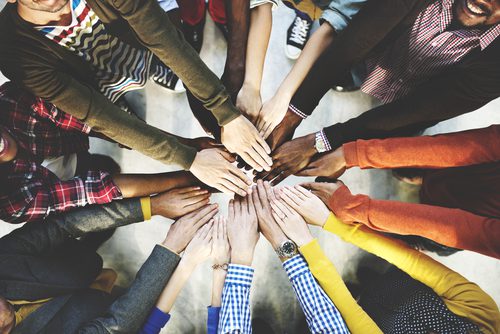 Let's face it – writing can feel lonely at times. It's you, your kitsch and fantastically inconvenient old-timey typewriter, and the thoughts running through your noggin. Depending on how far you want to take the writer tropes, your company might extend to a cat floating around.
But what did you like better – Ringo Starr's solo stuff, or his work with the Beatles? His narration of Thomas the Tank Engine notwithstanding, I think the more sane (and less hipster) of us will agree that his collaborative work takes the cake. And so it is with writing; even for the most hermit of hermits, joining forces with other writers to get some analysis, inspiration or encouragement from outside your little author bubble can help your novel in ways you may have never imagined.
There are a multitude of online communities that aim to do just that. Here are 6 of the best.
1)      NaNoWriMo
Write a 50,000 novel in the month of November; that's the crux of National Novel Writing Month (NaNoWriMo to its nearest and dearest). As we've said about NaNoWriMo before, while writing a whole novel in a month may seem an absurd proposition to most writers, NaNoWriMo just makes it work.
Firstly, there's a firm goal to aim at. Secondly, there's an untold amount of support provided by the other brave souls who are attempting the same thing. Like a platoon charging into battle, you know that you can trust the writer on your left and the writer on your right with your literary life; that they are going to be there to help when the going gets tough. And that is the perfect metaphor provided you just replace the potential of death with the potential of not finishing a book.
If you manage to skirt around the weirdos (there's a subreddit devoted to pictures of men named Ian sleeping, don't you know), that ever-mysterious 'front page of the internet' is a goldmine for writers looking for advice. The 'write' and 'writing' subreddits in particular are full of discussion about how best to write, edit or publish your magnum opus.
3)      Absolute Write Water Cooler
An extension of the Absolute Write Blog, the Absolute Write Water Cooler is an incredible resource for budding authors and self-publishers. You can either pose a question directly to the community, or search the thousands of threads covering every aspect of the writing game. Don't be fooled by its seemingly 15 year old interface, this site is a stone cold stunner.
4)      John Kremer's Book Marketing Network
The sad truth of self-publishing is that you could well be the world's greatest writer (and heck, who says you're not?), but if you're simultaneously the world's worst marketer your book will never get the kudos it deserves.
John Kremer made his name as a bit of a guru in the book marketing sphere, and has decided to use his powers for good by starting The Book Marketing Network. With 5000 members sharing all manner of book marketing tips and tricks, you'll feel like a Mad Men style schmoozer in no time.
Started way back in 2003, Critique Circle is one of the oldest writing forums on the internet. But unlike the Space Jam website, Critique Circle has held its age magnificently.
It describes itself as 'a place for writers to give and receive feedback, and thereby learn from one another'. It's a terrific utility for writers trying to sculpt their first, second or twentieth draft into something publishable, and the community as a whole is one of the warmest and fuzziest around.
6)      KBoards
This terrifically humble family operation has turned itself into a monster self-publishing community, with 90,000 members discussing all things Kindle. But while eBook talk is its bread and butter, KBoards is far from a one trick pony. With a stunning amount of discussion topics and source material for budding authors, you'll be able to find the answer to almost any writing related question on one of the forums.
7)      Figment
If you're new to the writing game and are looking to ease your way into the self-publishing community, look no further than Figment. It provides a user interface that is far easier to navigate than the likes of Reddit and Absolute, and puts real effort into highlighting great writing for all to see. If you're an active member who's producing good quality work you could quite easily find yourself on the Figment front page!
Sure, the earlier Ringo comparison might've been a bit of a stretch; you're not a journeyman drummer with the sort of showbiz name that you'd expect to find at the bottom of a cereal packet. But if collaboration worked so well for Mr. Starr, just imagine what it could do for you.