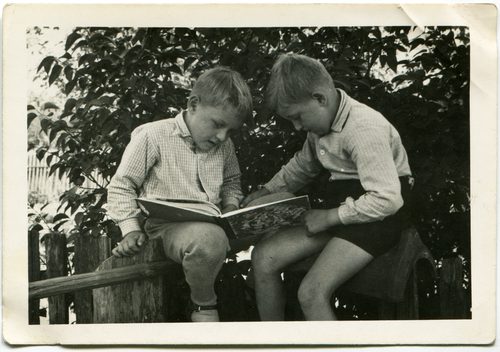 As a business whose clients are professional storytellers, the decision to tell the story of Damonza isn't one to be taken lightly. Let's face it, it's going to lack the exhilaration of one of your thrillers, the giggles of one of your comedies, and the emotion of one of your love stories. It's sure to be a less exciting version of what you as a self-published author deal in every day.
But, while it's not exactly a Hollywood blockbuster in the making, a surprising amount of our clients are interested to hear where we've come from and what the hell we're doing here. So to them I say you've only got yourself to blame for this article.
To know the highs, you must first know the lows
The story of Damonza begins with its namesake, Damon Freeman, long before Damonza was even a glint in the young man's eye. Having founded a successful design company in 2003, by 2009 Damon was looking for a change. He sold the majority of his shares in the design firm and began his own marketing business.
Now looking back, the decision to specialise in branded foosball tables might seem an ill-advised one. Well I'm here to tell you it definitely was. The marketing business was (in Damon's own words) a spectacular disaster, and left him with not just a gnawing sense of failure, but a Himalayan-style mountain of debt.
The minor share that Damon still held in his design firm allowed him to return as creative director in 2011, albeit at a discounted rate. So there he was, working for chicken feed, needing to not just make a dent in debt mountain (or face some pretty dire legal consequences), but also support a young family. Damon needed cash, he needed it fast, and for whatever reason he wanted to obtain said cash legally. It's slower that way, dude.
Necessity is the mother of all invention
Damon was (and still is) a designer, so after-hours he turned his hand to the world of online freelancing. He began working on one of those sites that sees designers submit a design for a job (be it for a logo, a poster, a book cover or a website) and pays only the winning entrant. Despite having 50 or more competitors for each job, Damon found his submissions had a success rate of around 1 in 5. What's more, his book cover designs did even better, with 1 in 3 getting chosen. If he were a racehorse, you'd put your money on Freeman.
Damon soon decided to make book covers his exclusive design focus. He registered the domain name damonza.com in order to showcase his work, and while it didn't get much traffic initially, word soon started to spread and the site slowly usurped his other online freelancing efforts.
Much to his own surprise and delight, the jobs just kept on coming. Word on the street was that this Damonza guy could whip up a drop dead gorgeous cover at a drop dead gorgeous price, and Damon soon found all of his free time being soaked up by cover design. Admittedly, it was a good problem to have.
From after-hours amateur to fully fledged professional
Damon's fork in the road came when he found himself working 9 to 5 as the design firm's creative director, before heading home and working 5pm till midnight on cover design. While the mountain of debt was quickly being turned into a molehill, the lifestyle was unfortunately untenable. Something had to give.
At this point he was designing 20 covers a month on his own – around one every weekday, along with changes to covers already started – and knew that he needed assistance if he was to keep any semblance of sanity. Taking on one additional designer only made Damonza's rate of growth escalate, so he took on another. And another. And another.
A few designers later, Damon realised that this thing had grown into far more than an after-hours hobby. In 2012 he made the decision to resign from his role as creative director of the design firm in order to commit himself entirely to Damonza.
With a focus on the business that was now unerring, Damon was able to grow it even further. Today Damonza is headed by Damon, with support from two project managers, a formatting and trailer expert and a healthy team of 8 designers. While Damonza has now designed thousands of covers, every single one is still reviewed by Damon prior to it being shown to a client, allowing him to retain the quality and style that enabled the company to grow so rapidly in the first place.
Actually, forget what I said earlier; I think this story has serious feature film potential. I'm thinking a young Matt Damon as Damon (obviously), a young Morgan Freeman as Client 1, and an old Jonathon Taylor Thomas as Foosball Table Marketing Expert.
Get Spielberg on the phone.