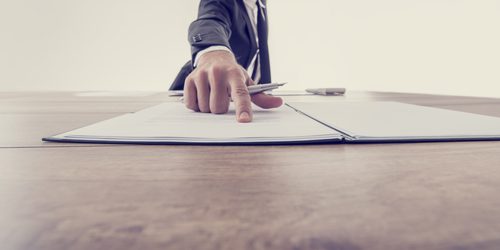 In volume of jokes made, Terms and Conditions are the 21st century equivalent of plane food in the 90s. So I'm going to resolutely hold myself back from this low hanging fruit. The basis of every one of these jokes has some truth though; who the hell reads every one of the 161 pages that an iOS update brings? The sort of person that you presumably don't want to be stuck with at a party. Or just a straight up sociopath.
So, with that first paragraph staring you and I directly in the face, let me talk to you about Damonza's new and improved Terms and Conditions.
There have recently been some important changes made to Damonza's Ts & Cs that should be noted by any authors that are looking to utilise our services, whether they've used them before or not. These changes have been made in order to ensure that Damonza's high levels of quality and service are retained far into the future. No one is more disappointed than us if a client isn't supremely happy with their Damonza experience, so we're doing everything that we can to mitigate the risk of that eventuality.
So, with a firm promise to avoid talk that is too boring and to sidestep any form legalese, here's a brief summation of how these changes may affect you.
Changes Regarding Your Changes
At Damonza we are only happy when our clients are completely happy, and we will work hard to sculpt a cover exactly how you had envisioned it. But previously our Terms and Conditions described the ability to make 'unlimited changes' to your cover. This, as it turned out, was far too broad a statement. It has been amended to an 'unlimited reasonable changes at certain stages'. This is to encourage you to indicate the changes that you'd like at the correct stage of the process, save having to go back to the start of the process if there's a change that you may have forgotten to mention to us. It's all about making the process as efficient and effective as possible.
Discretion to Cancel the Project
There have been points in the past where a client's expectations have been entirely at odds with our own in terms of design. At Damonza we pride ourselves on producing quality work, and if a client's demands restrict us to producing a cover that we're not comfortable with – whether that be through a request to use a particular image, font or anything else – we reserve the right to end said project, with a full refund, at our own discretion. While it's an exceedingly rare situation – indeed, one that's only occurred a couple of times over thousands of covers – sometimes two parties simply aren't compatible.
Adjusting the Initial Drafts
At Damonza we offer at least 2 initial cover drafts for a client to consider. In a change from the past, we now ask that our clients choose just one of these drafts to make alterations to. If you don't like either of those first concepts we'll gladly try something else, this time with more assistance from you. If we're still not getting it right we may stop here. However, it's important to note that we will only make changes to one of the drafts moving forward. Because you'll only be purchasing one cover, it makes sense to identify the front-runner early, to allow our team the maximum amount of time to develop it. This change should result in higher quality covers being produced.
Standing Tough with Your Decision
Further to this, we'd ask that our clients think carefully about their choice of draft to go forward with, as once you've picked the favoured concept the unchosen drafts will be taken off the table – you won't be able to change your mind and go back. If you wish to access it, a fee will apply. It's like an architect designing a house for you – you wouldn't expect to be able to change your mind on the house plan once construction has started without a reasonable cost being applied!
Our Famous Money Back Guarantee
At Damonza we offer a 100% refund if a client in unsatisfied with our designs. Please be aware, however, that this only applies to the first draft phase of the process. If you've given the go-ahead for a first draft to move to the next stage, this indicates that you're happy with the direction in which the project is heading, so the deposit will be forfeited. If you have any qualms regarding the project or the designs offered up, it is best to voice them as early on in the project as possible, save both parties losing valuable time.
While these changes are relatively small, they are all very important if we at Damonza are to continue to provide the sort of quality covers and high level of customer service that we pride ourselves on. Our focus will always be on producing the finest cover possible for your latest book; we simply ask that you take time to understand how these changes might affect you, so that we can continue to service you in the way to which you've become accustomed.
So that about sums it up! I trust that it didn't put you to sleep, and if it did, Damonza isn't liable for any saliva damage inflicted on your keyboard (see our Terms and Conditions).
To give you a reasonable idea of the STAGES of the design process, this is how it works:
Stage one – Concepts: (10-14 days)
Order and 50% deposit received
First Draft concepts (checked by Damon)
Minimum two initial drafts
If necessary, minimum one additional draft (checked by Damon)
If we're not getting it right at this point, we may refund the deposit paid, or we may keep going with additional drafts
First draft concept approved to work with in next stage
Stage two – Changes: (2-7 days, depending on changes)
Changes to approved concept from stage one.
All reasonable changes to be done
Once cover approved, move to next stage
Stage three – Front/Ebook cover delivery: (1 day)
Prepare high-res ebook cover and 3D rendering
Balance paid + ebook cover file delivered (unless author ordered  a print cover or other items)
Move to Stage 4 (if required)
Stage four – Paperback or other items design and changes: (2-7 days, depending on changes)
Quality Control (final checks with author – page count, trim size, paper color, blurb for the back, ISBN, printer)
Design paperback cover
Make changes to paperback cover until approved
Design banner/bookmarks
Make changes to banner/bookmarks until approved
Stage five – Quality control and final delivery: (2 days)
Prepare final paperback + banner/bookmark files
Quality control final checks

Send balance invoice to author

Send final files once invoice paid