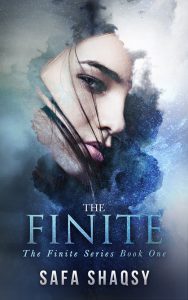 If you're creative, then you're creative.
Case closed.
If you've got the ability to string together a combination of the same 26 letters in a way which produces a novel-length masterpiece, that has a reader laughing, crying and wriggling in their seat, surely your creative mind can cobble together a cover for it?
Whipping up a snazzy looking cover to wrap your book in is the equivalent of breaking the finishing tape at the end of the marathon – a token gesture after you've completed the difficult part, right?
Right?
Wrong. So very, very wrong.
Your book cover is super important. It's the way your book greets any prospective buyer – that vital first impression that either gives the interested party a reason to stop and pick it up, or a reason to walk on.
When it comes to that first impression, a great book cover will confidently look a prospective buyer in the eye, smile, and give a firm yet friendly handshake. A bad book cover will look at the ground, offer a soggy, limp-wristed handshake, then find an excuse to go and play with the dog instead.
Getting that all-important 'in' with shoppers is the key, because, as you well know, once they open your book up and actually start flicking through the pages, they'll be hooked.
But what's stopping you from delivering that awesome cover all by yourself?
Things That Are Stopping You from Delivering That Awesome Cover All by Yourself
Delivering a great book cover is an art form, and not one that you can instantly pick up, no matter how current a version of PhotoShop you have on your top of the range MacBook Pro. It's about knowing the market, it's about trial and error, and it's about having the sort of experience that a casual book shop browser could never hope to gain.
Book cover designers undergo a huge amount of training to know what to place on the front of your work. There's the obvious design aspect, but there's also elements of marketing, social science and even psychology involved in the production of a great cover.
There is a lot of research involved in producing a winning book cover. Designers understand what the readers of your book will want to see, and ensure that the cover is one that attracts the right demographic. They use design tricks to give the cover an excitement that compels the target shopper to grab the book, crack it open and see what it's about.
They do all this while still staying true to your story, with graphics and text that hint at what the book will reveal in its pages. As tempting as it is to produce the most bold, exciting and face-melting cover possible every single time, sometimes 'a dinosaur exploding the sun with an atomic bomb' isn't what the story is about, and more a subtle, yet still compelling, cover is what is called for.
SIDENOTE: If anyone does have a dinosaur/atomic bomb/sun explosion story, your cover is good to go.
It's this balance that takes so long to master. Staying true to the story, creating something visually beautiful, and something that also has an air up pickupability – that's what professional book cover designers do that authors can't.
It's certainly not a slight. As I've said many times before, if I tried to produce a written piece that was anything above the 140 character Twitter top-out, I'd quietly find myself a corner to whimper in. I leave writing to the professionals.
In the same way, and for the good of your book's success, I'd suggest leaving the designing to the professionals. And here at Damonza.com, we're ready to help.
Cover design isn't simply the finishing tape – it's more like the last mile of the book production marathon.
But, if you'd like, you can rest those weary feet. We can take it from here.